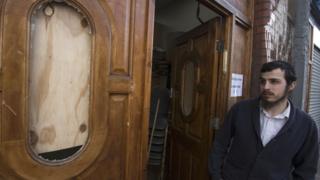 Twitter hosts "vast swathes" of hate speech and abuse aimed at Jews, and must do more to address anti-Semitism, a committee of MPs has said.
The Home Affairs Select Committee report also said Jeremy Corbyn was not doing enough to tackle anti-Semitism in the Labour party.
But he accused the committee of a "disproportionate" emphasis on Labour in its report.
A Twitter spokesman said the company tackled hateful conduct "head on".
The report by five Conservative, one SNP and three Labour MPs made unanimous recommendations to Twitter, the police and politicians in how to deal with and tackle anti-Semitism.
'Vile attitudes'
It said the failure of the Labour Party "consistently and effectively to deal with anti-Semitic incidents in recent years risks lending force to allegations that elements of the Labour movement are institutionally anti-Semitic".
In June, a report by the former director of human rights body Liberty, Shami Chakrabarti – who has since become a Labour peer and shadow attorney general – found the party was not overrun by anti-Semitism or other forms of racism but there was an "occasionally toxic atmosphere".
The committee's report criticised Labour leader Jeremy Corbyn for a lack of consistent leadership on the issue, which created a "safe space" for those with "vile attitudes". He did not fully appreciate "the distinct nature of contemporary anti-Semitism", it said.
The party was incompetent in dealing with members accused of anti-Semitism, it added.
But Mr Corbyn hit back at the committee's findings and said the report's "political framing and disproportionate emphasis on Labour" risked undermining it.
He said the committee had heard evidence from "too narrow a pool of opinion" and had "violated natural justice" by rejecting requests from Baroness Chakrabarti and the Jewish Labour Movement to appear and give evidence.
The report also "unfairly criticised" Baroness Chakrabarti, Mr Corbyn said, adding that Labour was "already acting on her recommendations".
The MPs' report said all parties needed to look at taking on its recommendations on training and discipline for members.
Term of abuse
The committee also said it was worried by the persistent use of "Zionist" as a term of abuse.
"Use of the word in an accusatory context should be considered inflammatory and potentially anti-Semitic by law enforcement and political party officials," the report said.
It found "shocking" the volume and viciousness of anti-Semitism online, including that directed at politicians.
Among its findings were:
An 11% rise in anti-Semitic incidents reported to the Community Security Trust (CST) during the first half of 2016, compared with the first half of 2015
Anti-Semitic incidents in London recorded by the CST were up 62% between the first six months of 2015 and the same period this year. But in Greater Manchester, they fell by 54.2%
A 29% increase in police-recorded anti-Semitic hate crime in England and some parts of Wales between 2010 and 2015, compared with a 9% increase across all hate crime categories
A fifth of British Jewish people responding to an Institute for Jewish Policy Research study had experienced at least one anti-Semitic harassment incident during the last year, with 68% of incidents taking place online
At one point during 2014, the Labour MP Luciana Berger received more than 2,500 abusive tweets in just three days.
Since walking out of the launch of the Chakrabarti report, the Jewish Labour MP Ruth Smeeth has reported more than 25,000 incidents of abuse.
Onus on victims
The committee said abuse on Twitter was "growing exponentially" and the company must employ more resources to identify abusers.
"The onus should not be on victims to monitor their accounts for ongoing abuse and report it to the company," MPs said.
A spokesman for Twitter said hateful conduct "has no place on Twitter" and there is "a clear distinction between freedom of expression and conduct that incites violence and hate".
"We look forward to further constructive dialogue between government, our partners in civil society and our peers in the technology sector on this issue," the spokesman said.
Individuals reporting abuse should have a single point of contact with their local police force, they recommended.
The committee also criticised President of the National Union of Students Malia Bouattia for failing to take the issue sufficiently seriously on university campuses.
Acting chairman of the committee Tim Loughton MP said: "We stand shoulder to shoulder with individuals in all political parties, and across society, in their fight against anti-Semitism.
"History shows that anti-Semitism is a virus that is too easily spread. We call on all leaders of political parties to lead by example to tackle the growing prevalence of this insidious form of hate, opposing racism and religious hate in all its forms."
Twitter must tackle 'vast swathes' of anti-Semitism, say MPs}