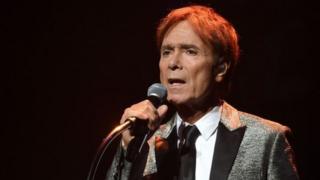 Singer Sir Cliff Richard will address MPs and peers as part of a campaign to change the law so sex crime suspects are not named unless they are charged.
He will be joined by broadcaster Paul Gambaccini, both of whom were accused of historical offences but told there was insufficient evidence to proceed.
It is proposed the Policing and Crime Bill be amended by the end of the year.
But campaigners for abuse victims say that naming suspects encourages more of those affected to come forward.
Sir Cliff was the subject of a South Yorkshire Police investigation, centred on accusations dating between 1958 and 1983 made by four men.
He was never arrested and earlier this year prosecutors announced that no charges were to be brought as a result of the inquiry. Last month a review confirmed that the decision was correct.
'Devastating'
He is suing the BBC and South Yorkshire Police over the filming of a police raid on his Berkshire home.
Mr Gambaccini, who was arrested in 2013 and spent a year on bail before being told he would face no action, will also discuss his ordeal at the meeting, taking place in a House of Lords committee room
Lady Brittan, the widow of the late Conservative cabinet minister and European commissioner Lord Brittan, who was investigated as part of a Scotland Yard inquiry into claims of a Westminster paedophile ring, will also speak.
The meeting is being organised by Liberal Democrat home affairs spokesman and former Metropolitan Police commander Lord Paddick, who said: "Particularly in the wake of the Jimmy Savile revelations, most people are very well aware of the impact historical child abuse has had on the survivors of such offences, but the meeting is to give parliamentarians the opportunity to hear from those who have been affected by being falsely accused of such offences.
"No matter who they are – whether they are a local school teacher whose arrest makes it into the local newspaper, or whether it's somebody like Cliff Richard, who has never been arrested but the allegations against him were all over the BBC and the national media – clearly it can have a devastating effect both on the individual's reputation and potentially on their careers.
"The higher the public profile the more devastating the impact can be because of the weight of publicity that is given to it."
The proposal is to amend the Policing and Crime Bill to make it illegal for someone suspected of a sex crime to be publicly named unless they are charged.
'Balancing act'
But Richard Scorer, a specialist abuse lawyer at Slater and Gordon, the firm which represented victims of convicted offenders including entertainer Rolf Harris and publicist Max Clifford, said raising public awareness was of paramount importance.
He said: "We have seen countless times how perpetrators isolate their victims, make them think no-one will believe them and that it would be their word against the abuser's.
"It is only following publicity around an arrest, and realising there were others, that some victims have felt able to come forward.
"Many dangerous offenders are only behind bars now because more victims came forward once the offender had been named following arrest. This strengthened the case significantly and resulted in conviction."
Although police do not routinely name on arrest, with both Clifford and Harris, publicity after they were questioned led further victims to come forward.
Mr Scorer admitted it was a "difficult balancing act" but "on balance, justice is far better served under the current system".
Metropolitan Police Commissioner Sir Bernard Hogan-Howe has supported the idea of a ban on naming those accused of sex crimes before they are charged.
Sir Cliff Richard to tell MPs about being sex crimes suspect}