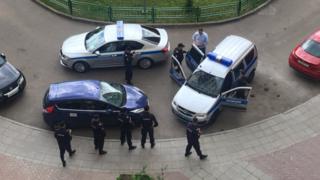 Russian opposition leader Alexei Navalny has been detained at home ahead of a planned unauthorised protest in Moscow, his wife says.
"Alexei has been arrested in the entrance to our block of flats," Yuliya Navalnaya wrote on Twitter, adding "our plans haven't changed".
Mr Navalny earlier called on supporters to attend anti-corruption rallies across Russia.
There have been several arrests at protests in the east of the country.
At least 10 people were detained at a rally in the city of Vladivostok, while four people were also arrested in Blagoveshchensk and at least one other in Kazan.
Prominent activist Daniil Ken said he was arrested as he left his home in St Petersburg on Monday. He urged people to join a rally at the city's Champ de Mars square. "Go for me, please!" he tweeted.
Mr Navalny was due to attend the rally in central Moscow later on Monday. He was earlier granted permission to hold a rally at Sakharova Avenue but changed the location on the eve of the demonstration to Tverskaya Street, near the Kremlin.
One of the groups participating in the Moscow rally, which is over government plans to demolish Soviet-era apartment blocks in the city, said it would hold its protest on Sakharova Avenue as planned.
Permission has been granted for demonstrations in 169 locations across the country, some of which will be broadcast live on the Navalny Live YouTube channel. The main rallies are expected to be in St Petersburg and Moscow.
The protests coincide with a series of official events – including festivals, concerts and military enactments – due to take place across the country to mark Russia Day, the national holiday dedicated to the 1990 declaration of sovereignty.
The BBC's Moscow correspondent, Steve Rosenberg, earlier shared images on Twitter of an historical military reconstruction in Tverskaya Street, the location of Mr Navalny's unauthorised demonstration.
Despite it being a public holiday in Russia, turnout in Monday's protests has so far been lower than similar rallies led by Mr Navalny in March, which led to hundreds of arrests.
Those protests were the largest since 2012, drawing thousands of people – including many teenagers – to rallies nationwide, angered by a report published by Mr Navalny that accused Prime Minister Dmitry Medvedev of corruption.
---
Are you at or planning to attend the protest? Share your views and experiences by emailing haveyoursay@bbc.co.uk.
Please include a contact number if you are willing to speak to a BBC journalist. You can also contact us in the following ways:
Putin critic Alexei Navalny 'detained' before Moscow protest