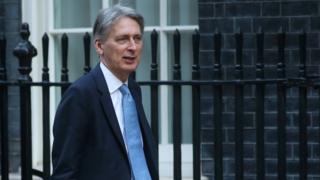 Newspaper reports that the chancellor is attempting to slow down progress towards Brexit have been dismissed as "rubbish" by Treasury sources.
Philip Hammond discussed plans for controlling immigration after Britain quits the EU with colleagues last week.
Some newspapers say colleagues believe he is attempting to "undermine Brexit" by delaying decisions on migrant curbs.
Sources said there were tensions at the meeting, but there was no row, BBC correspondent Iain Watson reported.
'Increasingly frustrated'
The Daily Telegraph reported that Mr Hammond was one of a number of voices urging caution about plans for a new work permit system designed to reduce immigration that was discussed at a Brexit Cabinet committee meeting.
The paper said that in the meeting Home Secretary Amber Rudd presented plans for a post-Brexit visa regime that would see all European Union workers forced to prove they have secured a skilled job before being allowed into Britain.
The paper said the plan was seen as confirmation that the UK will leave the single market as part of the Brexit process, something it said Mr Hammond was previously understood to have warned against
It reported that Mr Hammond raised questions about the plans, which has contributed to members of the Cabinet growing "increasingly frustrated" by his position on Brexit.
The paper quoted a source as saying: "He is arguing from a very Treasury point of view. He is arguing like an accountant seeing the risk of everything rather than the opportunity."
The Telegraph said there were claims on Sunday that tensions have increased to the point that there are fears Mr Hammond could resign as chancellor.
The Times, meanwhile, reports that Brexit-supporting ministers believe Mr Hammond is "not following Theresa May's instruction that government 'get on' with Brexit".
The paper said Mr Hammond was facing accusations that his intervention was part of a pattern of behaviour "in which the Treasury has failed to provide constructive assistance to the Brexit process".
It argues that the revelation about the meeting last week is part of a "growing battle over the role of the Treasury in Brexit".
What does 'hard' or 'soft' Brexit mean?
Conservative MP Jacob Rees-Mogg, who supported the Leave campaign, accused Treasury officials of "negativity" towards Brexit.
He told the Westminster Hour on BBC Radio 4 that they were "reheating" former Chancellor George Osborne's briefings.
One Whitehall source told the BBC that it was natural that the chancellor would want to think through the implications of any proposals for the City of London.
However, there was a growing consensus that what is described as "high value immigration", which is seen to benefit the City, should not be affected by Brexit, the source added.
Philip Hammond: Chancellor Brexit delay claims denied}