Naspers Ltd. agreed to combine Indian travel operation Ibibo with U.S. competitor MakeMyTrip Ltd. to help boost its unprofitable e-commerce business and ease a reliance on its investment in Chinese internet giant, Tencent Holdings Ltd.
Naspers, through a holding company minority owned by Tencent, will sell Ibibo to MakeMyTrip in exchange for new shares, the Cape Town-based company said in a statement on Tuesday. Naspers and Tencent will together be the largest shareholders in MakeMyTrip, owning 40 percent.
MakeMyTrip shares soared as much as 56 percent, the biggest gain in more than six years, and traded 51 percent higher at $31.20 as of 2:06 p.m. in New York. That values the company at $1.3 billion. Naspers, Africa's biggest company by market value, rose 0.4 percent by the close in Johannesburg, giving it a market capitalization equivalent to $72 billion.
The deal comes as Naspers reviews its portfolio of about 45 media and technology companies around the world, including a 33 percent stake in Shenzhen-based WeChat developer Tencent, which is worth about $88 billion. Last week, the company agreed to sell Allegro, a Polish online auction site, for $3.25 billion, while its Dubai-based online retailer Souq.com is planning to dispose of a stake of about 30 percent that would give the company a value of at least $1.2 billion, people with knowledge of the matter said last month.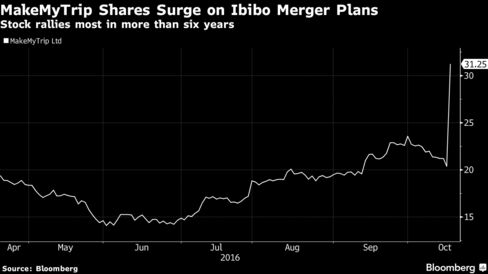 The merger of MakeMyTrip with Gurgaon, India-based Ibibo "is expected to unlock value for customers, supply partners and shareholders, by combining the complementary strengths of each travel group," Naspers said. The combination will own the brands MakeMyTrip, goibibo, redBus, Ryde and Rightstay.
The deal is expected to close by the end of December and is subject to approval by MakeMyTrip shareholders and regulators.
Naspers is the dominant provider of pay-TV in Africa and also owns online retailer Flipkart in India.
Naspers to Merge India Travel Business With Rival MakeMyTrip – Bloomberg