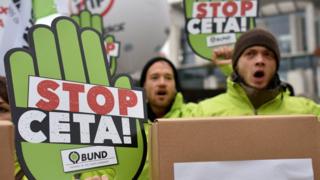 Germany's Constitutional Court has rejected a legal challenge to the EU-Canada free trade deal (CETA) from campaigners who call it undemocratic.
The campaigners object to the fact that parts of CETA will be implemented before all national parliaments in the EU have voted on it.
EU trade ministers are to vote on CETA next week. It requires unanimous support. If they all approve it, the deal can be signed on 27 October.
CETA would remove many trade barriers.
More than 125,000 people signed a petition organised by three activist groups aimed at blocking CETA, the Comprehensive Economic and Trade Agreement. The groups are Compact, Foodwatch and More Democracy.
'Race to the bottom'
Opponents fear that CETA will be used as a model to push through an even more controversial EU-US trade deal called TTIP, much of which remains to be negotiated.
The activists argue that CETA and similar deals put job security and social welfare at risk, in a global "race to the bottom" that serves the interests of a wealthy elite.
German Economy Minister and Vice-Chancellor Sigmar Gabriel has battled to win his Social Democrats (SPD) round to CETA. The SPD is in government with Chancellor Angela Merkel's Christian Democrats (CDU), who strongly support CETA.
Mr Gabriel said he was happy with Thursday's court ruling. CETA, he said, would act as "protection against having a bad deal with the US".
He said the opponents were mixing up CETA with TTIP. The EU negotiated safeguards for public services, Europe's cultural heritage and the cherished precautionary principle, he said.
The EU's precautionary principle means extensive risk assessments have to be carried out before a chemical or medicine can be marketed. In the US, the onus is on proving that a substance is hazardous before it can be withdrawn from sale.
Mr Gabriel said he hoped that sealing the CETA deal could enable the EU to raise other trade deals up to its level.
Many politicians and business leaders argue that CETA will provide a much-needed economic boost, reducing bureaucracy and creating jobs.
---
At a glance: CETA
Negotiations began in 2009 and ended in August 2014
The deal aims to eliminate 98% of tariffs between Canada and EU, making it the EU's most comprehensive trade deal to date
Signing expected on 27 October, to implement parts of CETA, then European Parliament and national parliaments vote on it
It includes: the new Investment Court System (ICS); harmonised regulations; sustainable development clauses; and access to public sector tenders
The deal is opposed by various groups, including environmental activists, trade unionists, and Austrian Socialists
Would CETA be a good model for the UK?
European Parliament briefing on CETA
---
German top court backs EU-Canada trade deal CETA