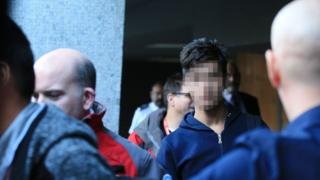 A Tory MP who called for child migrants arriving in the UK from Calais to have their teeth tested to verify their ages has been condemned by dentists.
A number of unaccompanied children from the "Jungle" camp have arrived to join relatives in the UK – amid suggestions they could be adults trying to get in.
David Davies, MP for Monmouth, said mandatory teeth checks would reassure people the UK was not being exploited.
But the British Dental Association said such checks would be unethical.
The BDA, which represents dentists and dental students in the UK, also disputed claims that dental radiographs can accurately determine whether someone is under the age of 18 or not.
British and French officials have begun registering unaccompanied children in Calais, with the first children with links to the UK having arrived this week.
However, photographs of some of the children have been printed on the front pages of some national newspapers, along with headlines questioning their ages.
Mr Davies, chairman of the Commons Welsh Affairs Select Committee, tweeted that the youngsters "don't look like children to me", adding: "I hope British hospitality is not being abused."
He told the HeatStreet website: "I will be tabling questions in Parliament asking how many migrant children have undergone dental checks and whether those who wish to come here in future will be subject to dental checks."
A BDA spokesman said it was "vigorously opposed" to the use of dental X-rays to determine the age of asylum seekers.
"It's not only an inaccurate method for assessing age, but it is both inappropriate and unethical to take radiographs of people when there is no health benefit for them," he added.
"X-rays taken for a clinically justified reason must not be used for another purpose without the patient's informed consent, without coercion and in full knowledge of how the radiograph will be used and by whom."
The Home Office has said it works closely with French authorities to establish whether any children are eligible to come to the UK before they arrive.
Privacy and respect
A spokesman said the UK uses "a number of determining factors" to establish age.
Judith Dennis, policy manager for the Refugee Council, said she was concerned by media coverage questioning the appearance of those admitted to the UK on Monday.
"It is not possible to judge how old someone is by looking at them, and most people understand that teenagers' appearances vary widely.
"The agencies involved in this exercise will have the safety of all children in mind and we would ask that the privacy of these vulnerable young people is respected."
French authorities have said they will close the Jungle camp – situated near the port of Calais, and close to the 31-mile Channel Tunnel – by the end of the year.
UK officials in Calais have been focusing initially on unaccompanied minors who have the right to join relatives in the UK under EU legislation, known as the Dublin regulation.
Under the EU-wide regulation, asylum claims must be made in the first safe country a person reaches, but children can have their claim transferred to another country if they have family members living there.
A separate registration process will take place for vulnerable children who do not have family in the UK.
UK law – known as the Dubs amendment – requires the government to arrange for the transfer to the UK and support of unaccompanied refugee children from Europe.
Dentists condemn call for child migrants' teeth to be tested}